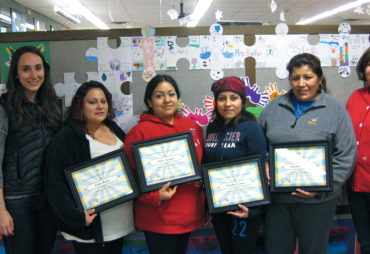 Neighborhood Leaders are Making a Difference
January 6, 2014
Eight neighborhood leaders of the Growing Up Healthy coalition received the Healthy Community Initiative "Making a Difference" Award for December. The award celebrates groups and individuals in the community who have a positive influence on Northfield youth.
Growing Up Healthy coordinator Leah Eby said the eight leaders – Vicky Agapito, Stephanie Calderon, Dannia Chavez, Lucy Gonzalez, Maribel Gomez, Taide Rodriguez, Clara Rojas and Lucy Velazquez – have planned and led successful projects and activities that have improved community connectedness, including mother-child craft activities, the twice-monthly cooking club, and the popular Tuesdays in the Park summer program, when families gather at the playground behind Greenvale Park Elementary School to socialize.
"We get to do different activities that we wouldn't otherwise do, and we come up with new ideas," said Agapito.
Growing Up Healthy was established in 2007, and the work of the neighborhood leaders in Northfield is an integral part of the organization's mission, which is to increase the level of community connectedness experienced by marginalized families in Rice County.
"These neighborhood leaders are some of the most supportive, loving, hilarious women I've ever known, and I am so honored to be able to witness the impact of their work firsthand," Eby said. "They are deeply committed to working with their neighbors to build relationships within their community, to connect each other to resources and information, and to create a healthy environment in which their families can grow and prosper."
From left: Leah Eby, Growing Up Healthy coordinator; neighborhood leaders Clara Rojas, Vicky Agapito, Maribel Gomez, Dannia Chavez; and Healthy Community Initiative board member Lisa Malecha. Not pictured: award recipients Lucy Velazquez, Lucy Gonzalez, Stephanie Calderon and Taide Rodriguez.
–written by Joy Riggs, freelance journalist
********************************************
The Healthy Community Initiative and the Northfield News present the Making a Difference Award cooperatively. If you know an individual or group that you would like to nominate for this award, CLICK HERE for nomination guidelines and the easy-to-complete application or find HCI on Facebook.  Applications are accepted on an ongoing basis and are selected by a review team of HCI board members and local youth.