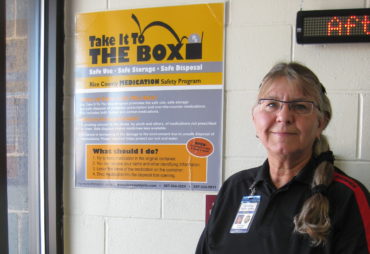 Lynn James is Making a Difference
December 9, 2013
Lynn James, the Northfield Police Department's evidence technician, has received the Healthy Community Initiative "Making a Difference" Award for November. The award celebrates groups and individuals in the community who have a positive influence on Northfield youth.
James has been a key player in Rice County's "Take it to the Box" program since its inception in 2009. She collects and securely stores the unused and unwanted prescription and over-the-counter drugs that are dropped off in the Northfield police department lobby. The box is open 24 hours a day, 365 days a year. Once the amount nears 200 pounds, she contacts her counterpart at the Faribault police station, where there's also a drop box, and together they take the accumulated drugs to an incinerator in Mankato.
"Lynn has been an excellent ambassador of that whole program," said Interim Police Chief Chuck Walerius. "She fields a lot of questions from the public, she's very accommodating when they have questions, she maintains and empties the box on a daily basis, and she does a great job with the disposal. We're very lucky to have her here."
The Take it to the Box program recently reached a collection milestone of 10,000 pounds. It has become a statewide model for safe and environmentally responsible disposal of medication.
James said it amazes her that the amount collected remains consistent from year to year; it has not dropped off at all in the years since the program's launch. Every two months, about 500 pounds is collected countywide. The service is anonymous and free.
"It's a program I really get behind, and I'm happy to be part of it," James said.
–written by Joy Riggs, freelance journalist
********************************************
The Healthy Community Initiative and the Northfield News present the Making a Difference Award cooperatively. If you know an individual or group that you would like to nominate for this award, CLICK HERE for nomination guidelines and the easy-to-complete application or find HCI on Facebook.  Applications are accepted on an ongoing basis and are selected by a review team of HCI board members and local youth.