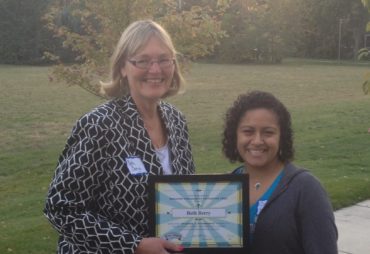 Beth Berry is Making a Difference
October 27, 2013
Beth Berry, who recently retired as high school coordinator of the TORCH program, has received the Healthy Community Initiative "Making a Difference" Award for October. The award celebrates groups and individuals in the community who have a positive influence on Northfield youth.
Berry has been the driving force behind Tackling Obstacles and Raising College Hopes (TORCH) since it formed in 2005. Concerned that few Latino students were graduating from Northfield High School in the early 2000s, Berry organized the collaborative effort to encourage and motivate Latino students to graduate from high school and pursue post-secondary education or training. The program grew to include low-income students and potential first-generation college students, and it now serves more than 300 youth in grades 6-12.
"Beth's gift is caring; she understands the power of connecting with kids and their families, and she makes students believe, genuinely, that they're cared for, and that she wants only the best for them," said Chris Richardson, Northfield Public Schools superintendent. "But more than the caring piece, she figures out ways to get them the things they need, like job training opportunities, college visits, and college level classes."
Richardson noted that when he spoke to the U.S. House education committee last year in Washington, D.C., he cited TORCH's success in making a huge difference in the lives of young people in Northfield. Since TORCH formed, the Latino graduation rate in Northfield has risen from 36 percent to more than 90 percent.
"People are just blown away that we've seen that kind of change, but it's really happened one kid at a time," Richardson said.
–written by Joy Riggs, freelance journalist
********************************************
The Healthy Community Initiative and the Northfield News present the Making a Difference Award cooperatively. If you know an individual or group that you would like to nominate for this award, CLICK HERE for nomination guidelines and the easy-to-complete application or find HCI on Facebook.  Applications are accepted on an ongoing basis and are selected by a review team of HCI board members and local youth.