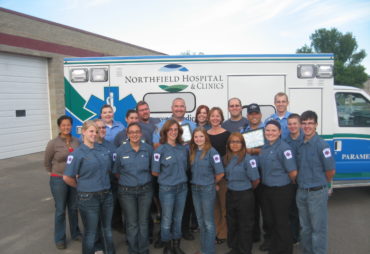 EMS Explorer leaders are Making a Difference
September 12, 2013
Brian Edwards, Jim Ingham and Julia Smith, members of Northfield Hospital & Clinics Emergency Medical Services (EMS), received the Healthy Community Initiative "Making a Difference" Award for September.  The award celebrates groups and individuals in the community who have a positive influence on Northfield youth.
The three honorees were instrumental in forming an Explorer Post that gives participating youth an introduction to the world of first responders. Ingham, a paramedic with Northfield Hospital EMS, said the Explorer experience allows members to learn more about careers in emergency services as well as gain valuable training in assessment and life-saving protocols.
The Explorer Post is affiliated with Learning for Life's career education program for young men and women who are 14 and have completed the eighth grade or are 15 to 20 years old. They meet every other week for three-hour sessions. Members become certified as First Responders and benefit from more advanced training. They also acquire job skills. The Explorers assist EMS at summer events and help with the aid station during Defeat of Jesse James Days. They are also involved in the EMS department's Northfield Area Heart Safe Project, which trains area residents in hands-only CPR.
– Written by Scott Richardson, HCI Board member
******************************
The Healthy Community Initiative and the Northfield News present the Making a Difference Award cooperatively. If you know an individual or group that you would like to nominate for this award, click HERE for nomination guidelines and the easy-to-complete application or find HCI on Facebook. Applications are accepted on an ongoing basis and are selected by a review team of HCI board members and local youth.