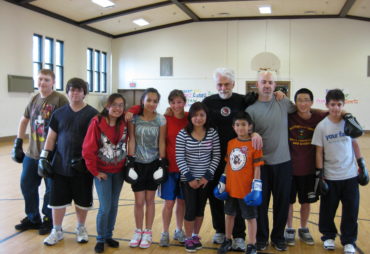 Local boxing instructors are Making a Difference
July 2, 2013
Two former professional boxing instructors and their student assistant have received the Healthy Community Initiative's  (HCI) "Making a Difference" Award for June 2013. The award celebrates those groups and individuals in the community who have a positive influence on Northfield youth.
Gordon Marino, Charlie Meyers and Victoria Celano taught boxing to youth in grades 8-12 during the school year through the Northfield Area Family YMCA. During weekly after school sessions at the Northfield Armory, the young people learned to practice skills of self-discipline, concentration, and quick-thinking, while also improving their physical fitness.
Celano, who graduated from St. Olaf College in May, said she first tried boxing a few summers ago in Chicago. When she returned to campus and discovered that the college had a boxing club, she met Marino, who's a philosophy professor as well as a coach, and he became her mentor.
"Gordon's spectacular – he's constantly willing to help out the kids here and at St. Olaf. He has a way of bringing out the students' confidence," Celano said.
Marino says he enjoys developing relationships with the young boxers.
"To have an impact on their lives – it's wonderful," he says.
Virginia Kaczmarek, YMCA executive director, said, "Gordon, Charlie and Victoria are definitely the dynamic trio for the YMCA's boxing program. Each contribute in a slightly different way, motivating, encouraging and giving guidance for life skills as well as the skills in boxing. These three have made impacts on young people's lives that they will remember for a lifetime."
– Article by Joy Riggs, freelance journalist and HCI Board member
*****************************************************
HCI and the Northfield News present the Making a Difference Award cooperatively. If you know an individual or group that you would like to nominate for this award, visit  www.healthycommunityinitiative.org for nomination guidelines and the easy-to-complete application or find HCI on Facebook.  Applications are accepted on an ongoing basis and are selected by a review team of HCI board members and local youth.