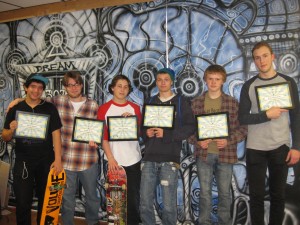 Northfield Skateboard Coalition is Making a Difference
April 21, 2013
The Northfield Skateboard Coalition has received the Healthy Community Initiative's "Making a Difference" Award for March/April 2013. The award celebrates those groups and individuals in the community who have a positive influence on Northfield youth.
Rob Hardy, an adult adviser to the group, and filmmaker Cecilia Cornejo nominated the coalition members for the award, citing the dedication and resolve the youth demonstrated throughout the lengthy civic process of working to bring a permanent skate park to Northfield.
"There have been times when the adults have gotten frustrated, angry, or rude, and the kids have never done that. They've been models of good behavior and civility," Hardy said.
Northfield High School senior Frank Meyer, who spearheaded the youth-led effort, is not a skateboarder himself. He said he joined the coalition about a year ago because he respected the skateboarders' perseverance. Through attending and speaking at city council and park board meetings, and discussing the issue with a range of people, Meyer said he learned to be patient, to be a good listener, and to be willing to expect good ideas from anyone.
"We're really appreciative of the support that's come from the city and the town as a whole; it's been a long time in the making, and it's really worth it now that we're here," he said.
– Article by Joy Riggs, freelance journalist and HCI Board member
——————————————————————————————————-
The Healthy Community Initiative and the Northfield News present the Making a Difference Award cooperatively. If you know an individual or group that you would like to nominate for this award, click HERE for nomination guidelines and the easy-to-complete application — or find HCI on Facebook.  Applications are accepted on an ongoing basis and are selected by a review team of HCI board members and local youth.