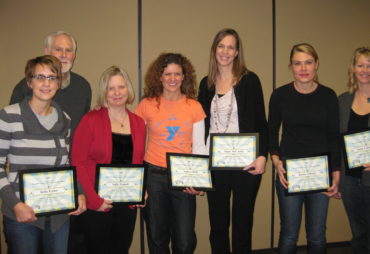 Y Kids Tri Volunteers are Making a Difference
December 26, 2012
Nine Northfield area residents who organized the third annual Y Kids Tri have received the Healthy Community Initiative "Making a Difference" Award for November/December. The award celebrates those groups and individuals in the community who have a positive influence on Northfield youth.
Andrea Hoff, Angie McCarthy, Amy McBroom, Anne Lehmkuhl, Kelly Foster, Sally Lindell, Kristy Mikula, Marilyn Nelson and Leah Sand were all members of the coordinating team that oversaw the most successful kids triathlon yet—the July 14 event attracted 222 participants, 100 more than the previous year.
Ranging in age from 6 to 14, the youth swam (50-100 meters, depending on their age group), biked (1.25 miles to 5 miles), and ran (a 1/4-mile to a mile). The event was sponsored by the Northfield Area Family YMCA, and about 75 adult volunteers assisted with the logistics.
Hoff, one of the lead organizers, said the goal is to get kids excited about getting fit. The event is noncompetitive and is designed to be inviting for a wide range of abilities.
"The biggest thrill is seeing the kids run across the finish line," she said. "They all feel good at the end about what they've accomplished."
The Healthy Community Initiative and the Northfield News present the Making a Difference Award cooperatively. If you know an individual or group that you would like to nominate for this award, click HERE for nomination guidelines and the easy-to-complete application or find HCI on Facebook.  Applications are accepted on an ongoing basis and are selected by a review team of HCI board members and local youth.
– Written by Joy Riggs, HCI Board member and freelance journalist