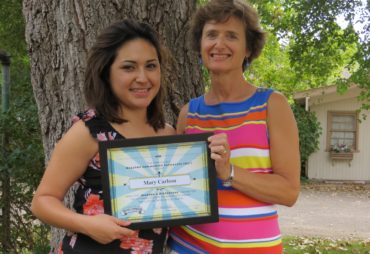 Mary Carlson is Making a Difference
November 20, 2012
A Northfield woman who has served as a longtime youth mentor has received the Healthy Community Initiative "Making a Difference" Award for October. The award celebrates those groups and individuals in the community who have a positive influence on Northfield youth.
Mary Carlson was matched with a middle school student seven years ago through the Connected Kids mentoring program. Carlson and the student, Melody Altamirano, began meeting regularly after school to do homework, with the long-term goal of supporting Altamirano's ambition to finish high school.
Altamirano graduated last spring and is now planning to pursue further education.
"She was amazing," Altamirano said of Carlson. "She helped me get a job, my first job, when I was 16. She helped me pass school, and get my homework done. She's always cared about me and how I'm doing."
Carlson said Altamirano was the one who did the work; she just kept showing up to offer support and encouragement.
"Getting to know Melody and see her overcome difficulties and make her way in the world – that was fun to watch," Carlson said.
Linda Oto, coordinator of the Connected Kids program, said Carlson never wavered in her belief that Altamirano would succeed.
"Mentoring isn't rocket science; it just takes understanding, persistence and belief, and we're so thankful that Mary was there to provide that to her mentee," Oto said.
For more information about Connected Kids contact Oto at 507-664-3655.
– Written by Joy Riggs, freelance writer and HCI Board member
****************************************
The Healthy Community Initiative and the Northfield News present the Making a Difference Award cooperatively. If you know an individual or group that you would like to nominate for this award, click HERE for nomination guidelines and the easy-to-complete application or find HCI on Facebook. Applications are accepted on an ongoing basis and are selected by a review team of HCI board members and local youth.