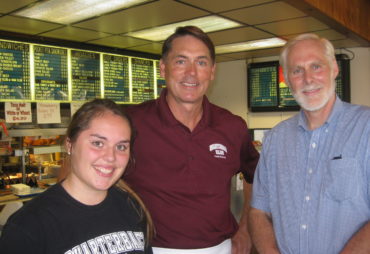 Dale Finger is Making a Difference
October 21, 2012
A Northfield businessman who's provided job experience for hundreds of local teenagers has received the Healthy Community Initiative's (HCI) "Making a Difference" Award for September. The award celebrates those groups and individuals in the community who have a positive influence on Northfield youth.
Dale Finger has hired and trained an estimated 300 youth in the 23 years he's owned the Quarterback Club family restaurant. Many employees have continued working for him part-time through high school and college, and some former employees have even been known to come in to work at times like Homecoming and Prom, when the high school employees are unavailable.
"They're good kids to begin with, and we've been pretty fortunate to retain them over the years," Finger said. "We're trying to teach them they're not just here to punch in and make a paycheck; they're here to produce a product and provide good service."
Finger said he's owned the restaurant long enough that he's now hired the children of former employees who once worked for him as teenagers.
"It's great because their laugh or their smile is identical to their parent's 20 years earlier. It brings back those memories," he said.
Liz Wickmann said Finger is successful at retaining employees like her daughter, Erica Perkins, because he's willing to work around their busy schedules. Perkins, a Northfield High School senior, has had to take time off from work for activities like golf and summer camp, and Finger has been more than accommodating, Wickmann said.
"He basically says 'tell me when you can work, and when you can't, and I'll see what I can do,'" Wickmann said. "[Erica] has a lot of respect for him. He's instilled in her some really good customer service values, and he's very complimentary of her work."
Written by Joy Riggs, HCI Board member and freelance journalist
**********************************
The Healthy Community Initiative and the Northfield News present the Making a Difference Award cooperatively. If you know an individual or group that you would like to nominate for this award, click HERE for nomination guidelines and the easy-to-complete application or find HCI on Facebook.  Applications are accepted on an ongoing basis and are selected by a review team of HCI board members and local youth.