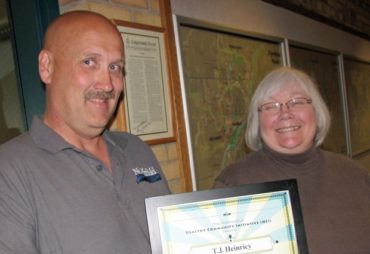 TJ Heinricy is Making a Difference
July 2, 2012
A Northfield city employee who spearheaded the acquisition and installation of skateboard park equipment at Riverside Lions Park has received the Healthy Community Initiative's "Making a Difference" Award for June 2012. The award celebrates those groups and individuals in the community who have a positive influence on Northfield youth.
TJ Heinricy, Northfield's street and park supervisor, has been involved for several years with efforts to maintain an interim skateboard park until the city selects a permanent location. When Heinricy learned last winter that the city of Plymouth was building a new concrete skatepark and getting rid of its older, steel equipment, he contacted Plymouth officials and helped negotiate a sale between that city and the Key, which bought the equipment for $500.  The Northfield Parks and Recreation Board agreed to allow the equipment to be installed at a temporary skateboard park in Riverside Lions Park through 2012.
"My point to the park board was that these youngsters have put enough effort into it, quit telling them 'no,' and let's find a spot," Heinricy said. "I'm glad it finally happened, and they get to enjoy it."
Amy Merritt, executive director of the Northfield Union of Youth, said Heinricy not only motivated people to restart the conversation about the temporary skateboard park, he also worked with local youth on the design plan.
"This particular initiative is close to his heart, and he's done everything he could to help. It's wonderful to have that kind of advocate," she said.
Heinricy said the equipment has been well used since it was installed, and he's only heard one formal complaint from a nearby resident who objected to the noise. He said having a designated place for youth to skateboard means they aren't damaging concrete walls, steps and other spots downtown.
"They're the future, that's how I look at them," Heinricy said. "I may not agree with the sport, but in my eyes, if it keeps them from doing vandalism, doing drugs, and getting into trouble, it's a good thing."
– Written by Joy Riggs, a freelance writer and member of the HCI Board of Directors
****************************************************
The Healthy Community Initiative and the Northfield News present the Making a Difference Award cooperatively. If you know an individual or group that you would like to nominate for this award, visit  www.healthycommunityinitiative.org for nomination guidelines and the easy-to-complete application — or find HCI on Facebook.  Applications are accepted on an ongoing basis and are selected by a review team of HCI board members and local youth.