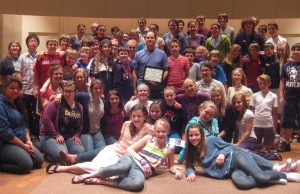 Mike Paulsen is Making a Difference
June 5, 2012
A Northfield parent who's been an integral volunteer with the Northfield Youth Choirs for more than a decade is the May 2012 recipient of the Healthy Community Initiative's "Making a Difference" Award. The award celebrates those groups and individuals in the community who have a positive influence on Northfield youth.
Mike Paulsen began assisting the organization when his daughter Olivia joined the choir in early elementary school, and he's taken on additional responsibilities as Olivia and his other daughter, Claire, have grown up in the choirs. During the 2011-12 season, Paulsen served as choir parent to the Troubadours (the boys' choir), he helped with the Concert Choir (for kids grades 5 and up), and he ran the after-school program, coordinating snacks and activities for participants in the younger choirs.
"If something needs to be done and done well, Mike Paulsen is the man to do it," said Liz Shepley, NYC artistic director. "He has that rare ability to see what would be helpful in any situation and act on it. He is invaluable to the NYC."
Shepley said Paulsen helps with tours and retreats and is known for his caramel apple dessert, as well as his sense of humor, his organizational skills and his rapport with young people.
"The kids feel that he's very approachable. If they have an issue, they can talk to him," she said. "He holds the kids to a very high standard. He knows they can do a good job of getting along, even if they don't believe it. He's well-loved and well-respected."
Paulsen never belonged to a choir when he was growing up; he played the trumpet in high school, and his dad was the band director. He said he has enjoyed seeing kids grow up during their years in the choirs, and he's not done volunteering yet – his kindergartner, Ben, just completed his first year in NYC's youngest choir.
"It's a very easy organization to volunteer with, it's so well-run and well-established," Paulsen said. "It's a piece of cake; it doesn't feel like volunteer work."
– Article by Joy Riggs, HCI Board member and freelance writer
************************************************************************
The Healthy Community Initiative and the Northfield News present the Making a Difference Award cooperatively. If you know an individual or group that you would like to nominate for this award, visit  www.healthycommunityinitiative.org for nomination guidelines and the easy-to-complete application — or find HCI on Facebook.  Applications are accepted on an ongoing basis and are selected by a review team of HCI board members and local youth.