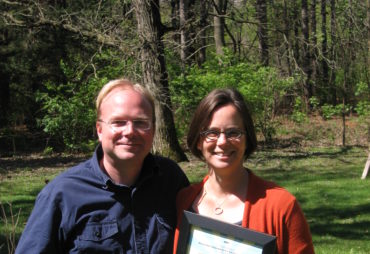 Fritz Bogott and Rachel Matney are Making a Difference
April 25, 2012
Rachel Matney and Fritz Bogott are the March/April 2012 recipients of the Healthy Community Initiative's "Making a Difference" award.  The award celebrates those groups and individuals in the community who have a positive influence on Northfield youth.
After reading reports about the achievement gap in Minnesota and Northfield, Matney started thinking of local solutions.  She wondered:  are there willing and interested volunteers in Northfield who could be asked to assist in closing this gap?
She approached her husband, Fritz Bogott, with the question, and they sprang into action.  They contacted Northfield Public Schools, HCI, St. Olaf College and Carleton College.  Bogott reported that from the first meeting, the enthusiasm from the partners was "irrepressible."   A new pilot initiative – Accelerate Northfield – was born, aiming to recruit volunteers to work in the Northfield schools primarily with youth who are struggling academically.  Matney and Bogott have played key roles in designing the Accelerate Northfield model and recruiting community volunteers.
According to Superintendent Chris Richardson, "Accelerate Northfield is providing a valuable source of trained and caring adults that provide quality interactions and reinforcement of instruction for Northfield elementary students who need extra support to be successful."
Bogott and Matney are reluctant to take credit for the success of the program beyond the initial instigation and training.  However, the truth remains that they began a partnership that will make a difference to Northfield students for years to come.
**************************************
The Healthy Community Initiative and the Northfield News present the Making a Difference Award cooperatively. If you know an individual or group that you would like to nominate for this award, click HERE for nomination guidelines and the easy-to-complete application – or find HCI on Facebook.  Applications are accepted on an ongoing basis and are selected by a review team of HCI board members and local youth.