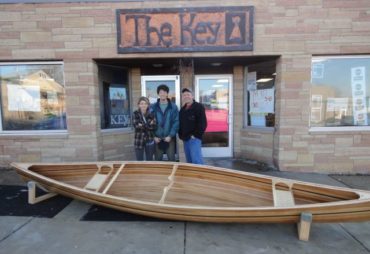 John Daniels is Making a Difference
March 24, 2012
A Northfield man who helped a group of teenagers from the Key build a canoe is the February 2012 recipient of the Healthy Community Initiative "Making a Difference" Award.  The award celebrates those groups and individuals in the community who have a positive influence on Northfield youth.
John Daniels spent nine months guiding the teenagers through the 200-hour process of building a cedar strip canoe, which will be used for a fundraiser.  It was his fifth canoe project, but the first one involving youth.
"I was really impressed," he said.  "I didn't know how that would go because it takes a great deal of patience.  It's a really slow process, for one thing – you have to be willing to work for a couple of hours at a time.  The kids were fine with that; they learned really quickly.  I would show them something once and turn them loose."
The youth started the project in late March 2011, took most of the summer off, and completed the canoe in December.  Those involved were Danny Dobrow, Arlo Cristofaro-Hark, Helen Forsythe and Antonia Cristofaro-Hark.
Daniels said he was initially reluctant to assist in the project because he knew it was a big time commitment.  But he said it helped knowing the work could be drawn out over several months.
"I'm really glad I did it because it was well worth it for me.  I got a lot out of it.  It was fun and rewarding to get to know these kids," he said. "Mentoring is a good thing; it has rewards, and they go both ways."
– Story by Joy Riggs, HCI Board member and freelance writer
*****************************************************************
The Healthy Community Initiative and the Northfield News present the Making a Difference Award cooperatively. If you know an individual or group that you would like to nominate for this award, click HERE for nomination guidelines and the easy-to-complete application or find HCI on Facebook.  Applications are accepted on an ongoing basis and are selected by a review team of HCI board members and local youth.