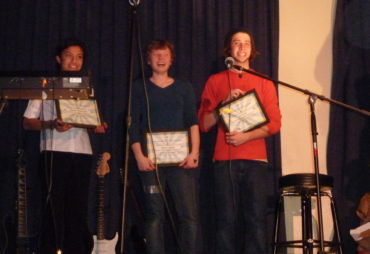 Local high school students are Making a Difference
February 3, 2012
Four teenagers who organized a benefit concert for a family who lost their home in a fire are the December 2011/January 2012 recipients of the Healthy Community Initiative's  "Making a Difference" Award.  The award celebrates those groups and individuals in the community who have a positive influence on Northfield youth.
Within hours of learning of the Thanksgiving Eve fire that destroyed the home of the Haslett-Marroquin family, ARTech students Gabby Frenstad and Olivia Upham and Northfield High School students Jasmine Barksdale and Jon Fried rallied support for the family through a Facebook page and organized a concert and bake sale.  Their efforts have raised more than $6,500.
"I was incredibly surprised by how amazing the response was," said Fried.  "Right from when we started organizing, we knew there would be a lot of people involved, and we knew that the event would probably have a good turnout, but it wasn't until we got a call from the Star Tribune the evening of concert that the impact of what we were doing really hit me."
Barksdale said her favorite memory of the concert was seeing all the people streaming in through the doors, after worrying that no one would show up.  "I definitely did not expect that many people to be willing to devote their time and money to people who they didn't really know.  I think it says a lot about the community we live in," she said.
"What these young people did for our family and for this community's spirit after our house fire is beyond what we had imagined," said Reginaldo and Amy Haslett-Marroquin.  "Together with the immense generosity and accompaniment from so many others, they have made our journey bearable and manageable.  The English language does not have a word that would properly express the depth of our gratitude.  What the youth gifted us with was so much more than funds – it was hope, and with hope anything is possible."
********************************************************
The Healthy Community Initiative and the Northfield News present the Making a Difference Award cooperatively. If you know an individual or group that you would like to nominate for this award, visit  www.healthycommunityinitiative.org for nomination guidelines and the easy-to-complete application — or find HCI on Facebook.  Applications are accepted on an ongoing basis and are selected by a review team of HCI board members and local youth.
Article written by Joy Riggs, HCI Board member and freelance writer