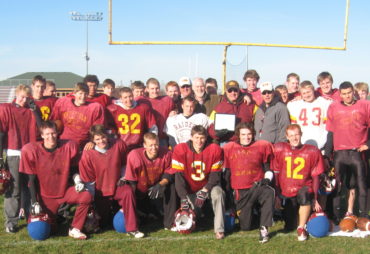 Chuck Perkins is Making a Difference
November 6, 2011
Chuck Perkins, a volunteer coach with the Northfield High School Raiders football team, is the September/October 2011 recipient of the Healthy Community Initiative (HCI) "Making a Difference" Award.  The award celebrates those groups and individuals in the community who have a positive influence on Northfield youth.
"We've often referred to him as our positive energy coach," head coach Bubba Sullian said of Perkins.  "He's always got a lot of energy, and he does a great job of pumping the kids up – it's something he's always brought to our coaching staff and our teams."
Perkins isn't able to attend practice every day because of travel commitments with his business, Perkins Marketing, but he makes an effort to participate when he can because he enjoys seeing the players grow as a team.
"I'm a team type of person.  I believe that we do our best work as a group, and that's why I like football so much," he said.
Perkins began volunteering with the football team in the early 1990s.  The Ohio native particularly enjoys working with the quarterbacks and the players who are struggling; he played quarterback himself, as well as defensive back, at the high school and college level.
He encouraged other adults to consider getting involved with youth organizations.
"In this time of budget cuts and stress in our community, we have to back our schools," Perkins said.  "The community can only be better if we're united and stand behind our kids."
HCI and the Northfield News present the Making a Difference Award cooperatively.  If you know an individual or group that you would like to nominate for this award, click HERE for nomination guidelines and the easy-to-complete application.  Applications are accepted on an ongoing basis and are selected by a review team of HCI board members and local youth.