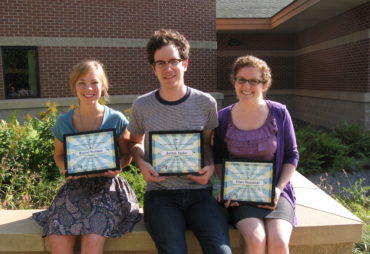 Northfield's Promise Fellows named "Making a Difference" award winners
August 23, 2011
Four AmeriCorps Promise Fellows who devoted the past year to serving youth in Northfield are the July/August recipients of the Healthy Community Initiative's "Making a Difference" Award.  The award celebrates those groups and individuals in the community who have a positive influence on Northfield youth.
Through a partnership with the Minnesota Alliance With Youth, the four Promise Fellows worked at the Northfield Middle School, Northfield High School, the Area Learning Center, The Key, and the Healthy Community Initiative.
Clare Dudzinski, from Wilmette, Ill., met with students to offer tutoring, homework help and personal support.  She helped facilitate the after-school enrichment program at the Middle School Youth Center and an evening homework help group.
Mundo Garza, from Laredo, Texas, worked with the Northfield TORCH (Tackling Obstacles and Raising College Hopes) program, and the high school's Student Support Team, which identifies at-risk students and helps address their academic and personal issues.
Jordan Taylor, from Hutchinson, Minn., worked for the Healthy Community Initiative on a variety of youth-focused initiatives, collaborating with groups including the Northfield Mayor's Youth Council, the Northfield Mayor's Task Force on Youth Alcohol & Drug Use, and the Northfield Union of Youth.
Rachel Woldum, from Tulsa, Ok., provided support to ALC students, helped support existing programs at the Key and start new ones, ran the Main Street Mentors program, and assisted with grants.
Dudzinski and Garza recently completed their first years as Promise Fellows, and Taylor and Woldum completed their second years.
"I can't say enough about what an asset Rachel has been to the Key these past two years, or what an incredible impact the Promise Fellows have had on the Northfield community," said Amy Merritt, executive director of the Union of Youth.  "At the Key, Rachel has been integral in creating and sustaining programs, leading volunteer activities, and serving as a mentor and role model to literally hundreds of Northfield youth.  She is a fantastic example of how an AmeriCorps Promise Fellow can strengthen an organization and a community.  In addition, the Fellows have worked collaboratively to build on and strengthen the relationships between their organizations."
Marnie Thompson, assistant principal at Northfield High School, echoed Merritt's praise, saying the contributions by the four Promise Fellows have been extraordinary.
"They have made great connections with kids and adults in our community and understand the importance of relationships in helping students be successful," Thompson said.
The Healthy Community Initiative and the Northfield News present the Making a Difference Award cooperatively. If you know an individual or group that you would like to nominate for this award, visit www.healthycommunityinitiative.org for nomination guidelines and the easy-to-complete application or find HCI on Facebook.  Applications are accepted on an ongoing basis and are selected by a review team of HCI board members and local youth.