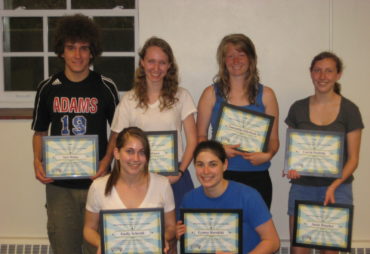 Seven Carleton students named June "Making a Difference" recipients
July 7, 2011
Seven Carleton College tutors who volunteered with the TORCH program were named the June recipients of the the Healthy Community Initiative's "Making a Difference" Award.  The award celebrates those groups and individuals in the community who have a positive influence on Northfield youth.
The college students volunteered throughout the school year assisting high school TORCH students who took online classes through Riverland Community College.  The tutors were: Lynsey Bernfell, Annie Boucher, Samantha Ellerbeck, Becca Kilman, Carrie Paulette, Emily Schickli and Nick Welna.
The tutors planned weekly study sessions for the TORCH students and developed activities or led discussions relating to the coursework.
"What's noticeable about the group of students who serve as TAs for us is they're passionate, and they're always looking for ways to reach out to students and to be helpful," said Jason Hallen, the TORCH post secondary education opportunity (PSEO) liaison.  "I think our TAs are really impressive.  It's very fitting that they receive this award.  They do amazing things."
Northfield TORCH (Tackling Obstacles and Raising College Hopes) is a collaborative that seeks to improve the graduation and post-secondary participation rates of Northfield's minority students, low-income students, and youth who would be first-generation college attendees.  Since TORCH began in 2005, the graduation rate for Northfield's Latino students has climbed from 36 percent to more than 90 percent.
HCI and the Northfield News present the Making a Difference Award cooperatively.  If you know an individual or group that you would like to nominate for this award, click HERE for nomination guidelines and the easy-to-complete application — or find HCI on Facebook.  Applications are accepted on an ongoing basis and are selected by a review team of HCI board members and local youth.