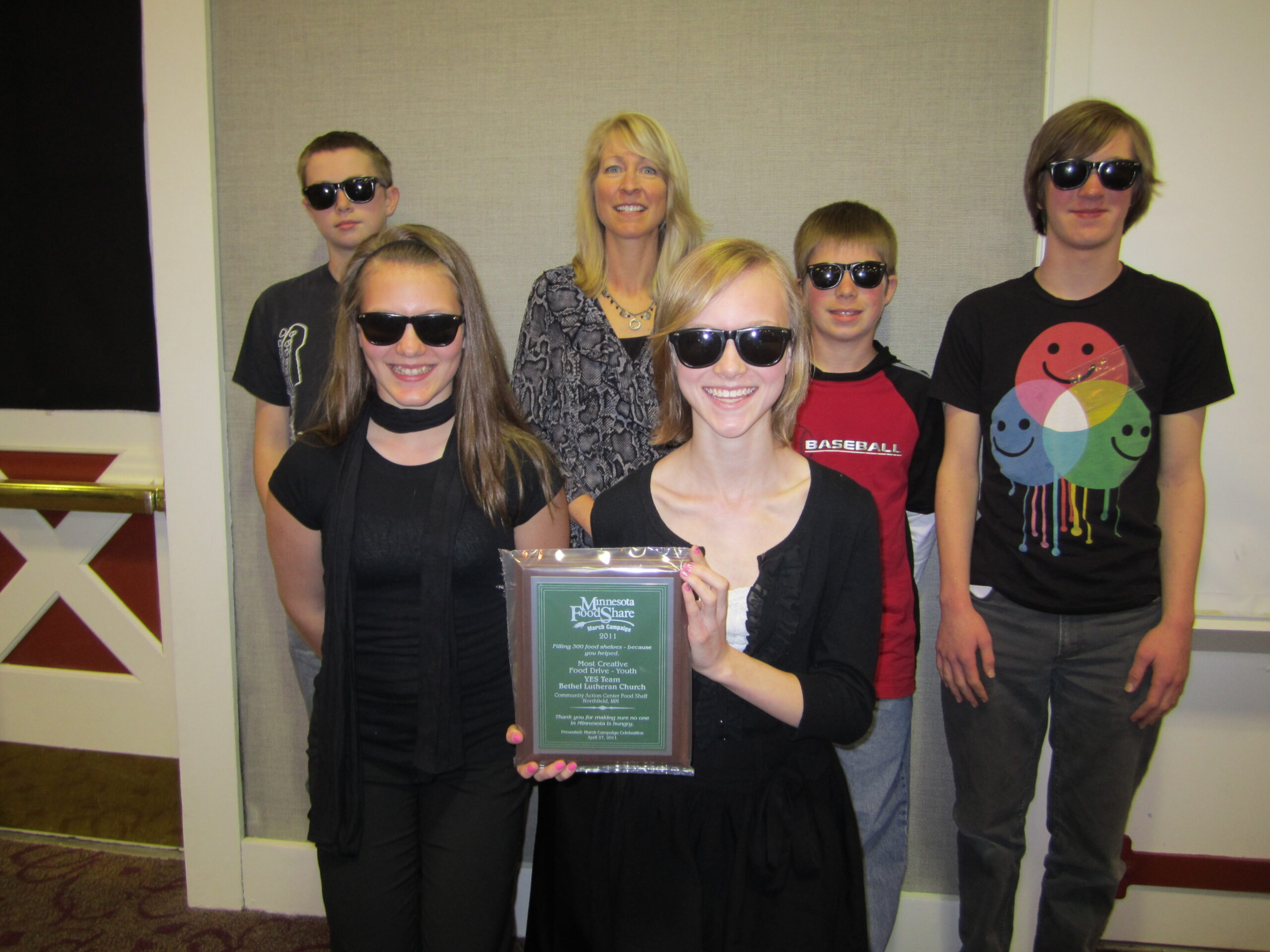 Bethel "Youth Energized to Serve" named May "Making a Difference" award winner
June 12, 2011
The Bethel Lutheran Church group Youth Energized to Serve (Y.E.S.) is the May recipient of the Healthy Community Initiative "Making a Difference" Award.  The award celebrates those groups and individuals in the community who have a positive influence on Northfield youth.
The youth group coordinated the church's March food drive and raised $14,035 and 158 pounds of food for the Food Shelf at the Community Action Center of Northfield.  Assisted by adult coordinator Cindy Kreis and youth ministries director Barb Farmer, the 30 middle school and high school students raised awareness about the food drive by making posters, setting up displays and presenting skits in front of the congregation each week with the theme, "Mission Impossible: Not with Your Help."
"I think the adults really enjoyed the energy from the kids, and the creative way they presented it.  It was a serious subject, but they made it fun.  People looked forward to hearing what the kids had to say," Farmer said.
The youth group received the "Most Creative Food Drive" award from Minnesota FoodShare, an organization that directs the March Campaign, the largest food drive in the state.  The students were nominated by Judy Bickel, Community Action Center program director.
In her nomination, Bickel wrote, "The students are highly respected among congregation members for their excellent service, and they're learning firsthand that they can make a significant contribution to their community."
The Healthy Community Initiative and the Northfield News present the Making a Difference Award cooperatively. If you know an individual or group that you would like to nominate for this award, visit  https://healthycommunityinitiative.org/awards/ for nomination guidelines and the easy-to-complete application — or find HCI on Facebook.  Applications are accepted on an ongoing basis and are selected by a review team of HCI board members and local youth.