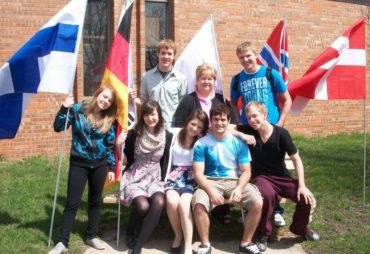 Vicki Dilley named April "Making a Difference" award winner
May 9, 2011
Rotary Youth Exchange Officer Vicki Dilley is the April 2011 recipient of the Healthy Community Initiative "Making a Difference" Award.  The award celebrates those groups and individuals in the community who have a positive influence on Northfield youth.
Dilley oversees the application process for Northfield students who want to go abroad through Rotary, and she supports students from other countries who spend the year in Northfield.  This year, a record 15 students from Northfield are living abroad, and five students from other countries have been spending the year with Northfield families.
"It's so exciting for me to see them go through what's sometimes a painful growth experience, trying to make sense of the world, and figure out where they belong in it," Dilley said.
Dilley and her husband, Lee, served as Peace Corps volunteers for 3 1/2 years on the Polynesian island of Tuvalu.  They so appreciated the warm hospitality of the people there, they decided to reciprocate by hosting students when they moved to Northfield.  That led to Dilley taking the Rotary position in 2006, and the program has continued to grow.  Next year, there will be 16 outgoing students and four or five incoming students.
"Vicky has great personal warmth and kindness that exchange students – and everyone else – find comforting," said Jan Stevens, who served as youth exchange officer before Dilley.
When asked why cultural exchange is such a popular option for Northfield students, Dilley said it's due to support from Rotary club members, the school counselors, and the families who are willing to host students.  She also credited her husband for supporting her passion to work with exchange students.
"My ultimate hope and dream is just to bring world peace and understanding.  I really believe it begins on an individual basis, having a real global understanding as well as having an understanding of one's self," Dilley said.
**********************************************************************
The Healthy Community Initiative and the Northfield News present the Making a Difference Award cooperatively. If you know an individual or group that you would like to nominate for this award, visit HCI for nomination guidelines and the easy-to-complete application — or find HCI on Facebook.  Applications are accepted on an ongoing basis and are selected by a review team of HCI board members and local youth.