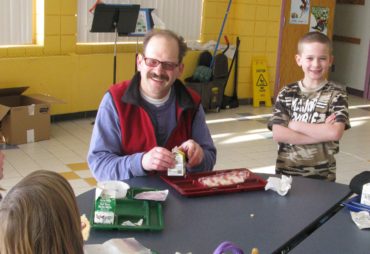 Randy Malecha named "Making a Difference" award winner
March 22, 2011
Local business owner Randy Malecha is the February/March 2011 recipient of the Healthy Community Initiative's "Making a Difference" award.  The award celebrates those groups and individuals in the community who have a positive influence on Northfield youth.
Malecha, who owns Willie's Shoe Service, was selected for his commitment to volunteering at Bridgewater Elementary School.  He walks or bikes to school once a week to eat breakfast with the students.
The father of grown children, Malecha said he saw an ad in the newspaper about the need for volunteers.  He thought about it for the rest of the school year, and, encouraged by his wife, he called the school in the fall and showed up the next day.  He's now in his fourth year of volunteering.
Malecha spends 30 to 40 minutes with the students at each visit, discussing topics like the weather, upcoming holidays, and what is new in their lives.
"It's enjoyable to hear the things they say," he said.  "They ask questions back, and a lot of times one will say to another, 'Is that your dad?'"
Bridgewater Principal Nancy Antoine said students like spending time with Malecha because he's easy-going and enjoys being with them.
"The success of a student depends a lot on the relationships that they are able to build with others.  Randy has taken the time to build relationships with the students at Bridgewater by listening to them at breakfast and sharing their excitement for the day," Antoine said.  "His service to the Bridgewater children is greatly appreciated!"
The Healthy Community Initiative and the Northfield News present the Making a Difference Award cooperatively. If you know an individual or group that you would like to nominate for this award, visit  the HCI website for nomination guidelines and the easy-to-complete application or find HCI on Facebook.  Applications are accepted on an ongoing basis and are selected by a review team of HCI board members and local youth.