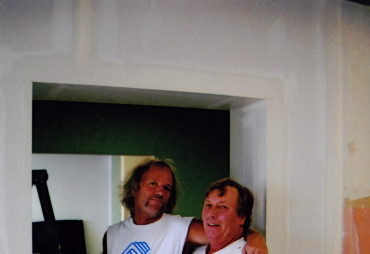 Volunteers who helped rehab the new Key are November's "Making a Difference" winners
November 19, 2010
All the contractors, businesses and community members who donated labor or goods to help with the rehab and opening of the new Key building are the November recipients of the Healthy Community Initiative's "Making a Difference" Award.  The award celebrates those groups and individuals in the community who have a positive influence on Northfield youth.
More than 20 businesses and individuals contributed their expertise, donated more than $6,000 in goods and provided approximately $25,500 in in-kind labor for the three-month project.
Recipients include:
Mark Madson of Madson Painting and crew members Daniel Stewart, Richard Kluver and Andrew Juris
Schmidt Homes
Ron's Heating and Cooling
Howie Electric
Jerry Topp
Welch Plumbing
Bierman Flooring
Nick Avila, Noemi Trevino and family
ServiceMaster
Doug Shepard
Jim Gutfleisch
Benjamin Moore
Vivus Architecture + Design
Waste Management
Ace Hardware
Cemstone
Jim Evans, a Key board member, said people came together on the project because they believe in the mission of creating a gathering place for youth that's safe and chemical-free.  He expressed a deep appreciation to everyone who helped, including any individuals who might have been overlooked.
******************************************************
HCI and the Northfield News present the Making a Difference Award cooperatively.  If you know an individual or group that you would like to nominate for this award, click HERE for nomination guidelines and the easy-to-complete application or find HCI on Facebook.  Applications are accepted on an ongoing basis and are selected by a review team of HCI board members and local youth.