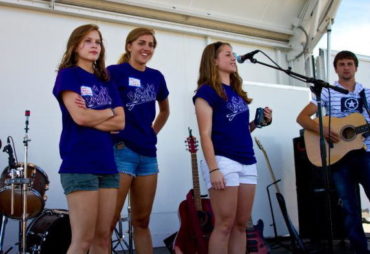 "Beat Cancer: Cancer Jam 2010" organizers named July "Making a Difference" Award winners
July 17, 2010
Rachel Hanson, Leigh Langehough and Heidi Strike are the July 2010 recipients of HCI's "Making a Difference" Award.  The award celebrates those groups and individuals in the community who have a positive influence on Northfield youth.
Hanson, Langehough and Strike, who all graduated from Northfield High School in June, organized the successful Beat Cancer: Cancer Jam 2010 benefit concert this spring and raised$13,000.  Eleven bands from Northfield, Faribault, Cannon Falls and Montgomery-Lonsdale participated in the Memorial Day concert at Northfield High School, which attracted an audience of several hundred people.
Beat Cancer started as the students' year-end project for their service-learning class at the high school.  Hanson, Langehough and Strike made and sold T-shirts, got businesses to donate food, and advertised the event through a Beat Cancer Facebook page that attracted more than 1,800 fans.
"Our mission is simple: To bring people together to raise awareness and support through music and community activity," the young women explained on the Facebook page.
The money raised benefited a local woman battling cancer, Darla Petersen, and the American Cancer Society's patient fund.  The event was covered by the local media and by KARE-11 TV.