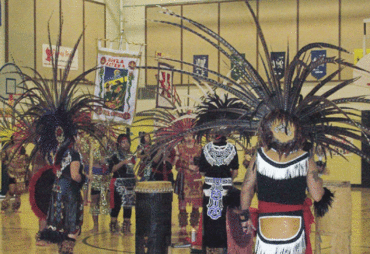 Aztec Dance Circle is Making a Difference
May 18, 2008
The Ollin Ayacaxtly/Aztec Dance Circle is the March/April 2008 recipient of the Healthy Community Initiative's "Making a Difference Award." The award celebrates those groups and individuals in the community who have a positive influence on Northfield youth.
Ollin Ayacaxtly is a Northfield based traditional Aztec dance circle that integrates more than 20 students from Northfield Middle and High Schools. The Aztec Dance Circle provides local youth the opportunity to learn their history and culture and also use their creativity to make traditional outfits, shields and rattles.
The group started over a year ago with Jesus Torres and the Centro Campesino's Youth Committee. Torres is the leader of the circle with the local assistance of Clarita Kell and the guidance of Susana de Leon in Minneapolis, and Aztec Dance General Chief Pedro Espana in Morelos, Mexico. The group has performed in different communities across the state and also participates in local events, special days for the Latino community and other traditional ceremonies during the year.
"The Aztec Dance Circle provides a wonderful opportunity for our Latino students to develop leadership skills, and work together to create an amazing dance performance," said Marnie Thompson, Northfield High School Assistant Principal. "We could not be more proud of them when they perform for audiences locally and around the state. They are role models for their peers and younger students."