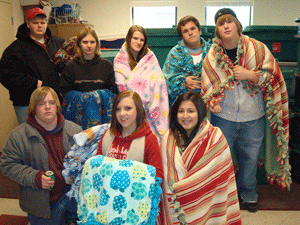 NHS Focus 10 Students are Making a Difference
May 18, 2007
Students in the Northfield High School Focus 10/Social Studies and English class are the November/December 2007 recipient of the Healthy Community Initiative's "Making a Difference Award." The award celebrates those groups and individuals in the community who have a positive influence on Northfield youth.
The Focus 10 class is facilitated by Sarah Swan-McDonald and Bubba Sullivan. The goal of the program is to help students get "back on track" academically and gain confidence in their abilities. Another goal of the program is to introduce students to their role in the community as volunteers — now as a teen and eventually as an adult.
The class completed a unit on homelessness both globally and locally. "I was surprised at the number of homeless people in Northfield," said one student. "I didn't know there were homeless people here." As a result, they put together fleece blankets for the Northfield Community Action Center annual Christmas Sharing Program and planned to assist with the set up of the program.
"Any opportunity we have to incorporate service into our program is an asset to our students, our program, and ultimately the community," said Sarah Swan-McDonald, Focus 10 instructor. "Service gives our students a chance to share what they have to offer and to participate with their positive energy and enthusiasm. Once they really learn about any given need, they instantly want to do something to make a difference."