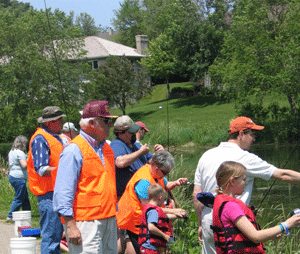 Cannon River Sportsmen's Club is Making a Difference
May 18, 2007
The Cannon River Sportsmen's Club is the August 2007 recipient of the HCI "Making a Difference Award."  The club has been a youth asset builder in the Northfield community for many years. The Sportsmen's Club places an emphasis on providing meaningful experiences for youth and making them feel valued.
"The Cannon River Sportsman's Club is a great partner in providing outdoor recreational opportunities to the Northfield community. Their work has enabled many youth to participate in camps, and programs that they may otherwise not have had the opportunity to take part in," said Erin Mayberry, Recreation Program Coordinator, Northfield Public Schools, and Community Services Division. "It is their caring and compassion for youth that truly makes this organization stands out in the Northfield community."
One example of the Sportsmen's Club members' dedication to youth is the "Introduce a Kid to Fishing" class. For three hours on a Saturday, members of the Sportsmen's Club teach students about water safety, fish habitat, fishing equipment, and actual fishing. At the end of the class each participant is provided lunch and a tackle box full of equipment to continue practicing what he or she had learned. The classes taught by the Sportsmen's Club offer youth the opportunity to learn a new skill and enjoy the outdoors. Members donate their time, knowledge and money to these youth activities.
The Cannon River Sportsmen's Club provides support to a number of youth activities throughout the year including scholarships for youth interested in attending one of several camps at Eagle Bluff, an environmental learning center in southeastern Minnesota, and scholarships for special need students to attend an adaptive summer program through Project ABLE.